We are busy!  Especially this week.  Juggling full time work, end of term assessments, 25 five year olds, 2 of my own children, the "nanny", the husband and the never ending pile of mail, emails and washing is CRAZY!!!  But luckily we finished our new "command centre/organisation station/LET ME BE ORGANISED" area just in time!!!!  So here's how it works……it's all about the SYSTEM.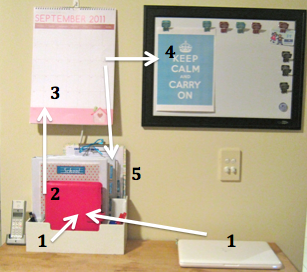 1. Mail in.  We actually receive very little traditional mail!  Most of our important dates and events come via email.  Even our kindy and school newsletters are sent via email!  We also pay most of our bills using direct debit, which means we have drastically reduced the amount of paper we receive.  Once we have opened the "mail"….
2. Diary.  The event, date, appointment is recorded in my Inner B Mum Organiser.  Each member of the family has their own section on my week to view page, which means I have plenty of room to record all the details.  I also add little reminders a week ahead of events such as birthdays, anniversaries etc so I remember to start organising cards and presents.  See how my Inner B Organiser works HERE
3. Calendar.  A brief note of important appointments and dates is recorded on our gorgeous new calendar!  The ladies at stuck on you were so generous that they sent me two calendars!  One for 2011 and one for 2012.  I love that it is large (A3) easy to read and of course who couldn't love those divine little birdies! Now this is where the system becomes a bit like a choose your own adventure!
4. Noticeboard.  Birthday invitations, thank you cards, local event calendars or things not directly related to home or school go to the noticeboard.  Because our noticeboard is also a whiteboard you can also record little reminders on it.
5. File.  Bills go onto the bill clipboard.  School notes into the school binder.  Home information such as bank statements, bills that have been paid, general information received from telephone companies etc go in this binder.  At the end of the financial year the home binder is emptied into the filing cabinet.  At the end of the calendar year the home binder is emptied into the filing cabinet.  THIS MUST HAPPEN.  or the binders will self destruct/explode/get very messy!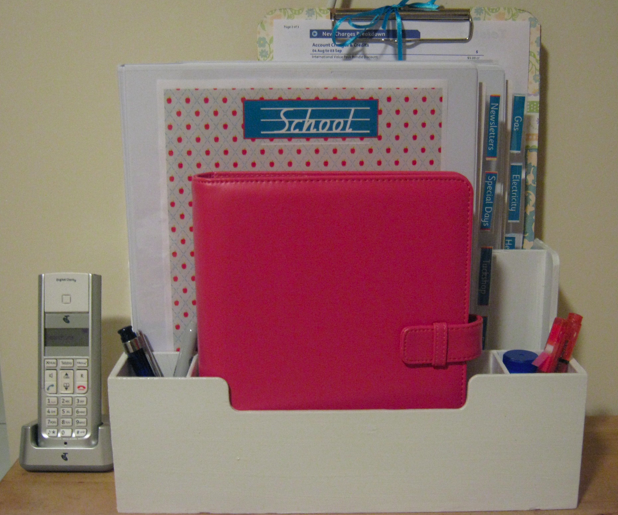 So here is a close up of our little organisation station.  I have done a massive cull.  We now have (hopefully) a more effective, streamlined area. From front to back,  my Inner-B Organiser.  School Binder divided into sections.  Home Binder divided into sections and our bills clipboard.  Bills are placed onto the clipboard in the order they are due.  There is even room for mail in front of my Inner B Organiser and pens, glue sticks, highlighters etc.  Can you see my little highlighter with mini post it notes attached?  It was soooo expensive at $2!!!!  I just love it!!  Great for going through notes and bills and highlighting important parts and the sticky notes are great for my IKEA catalogue!  Oops did I just admit that?  
So we have progress, we have a system and hopefully it is the answer to our crazy schedule becoming a little bit easier to manage!