Last week I introduced the way in which we are conquering the paper clutter in our house!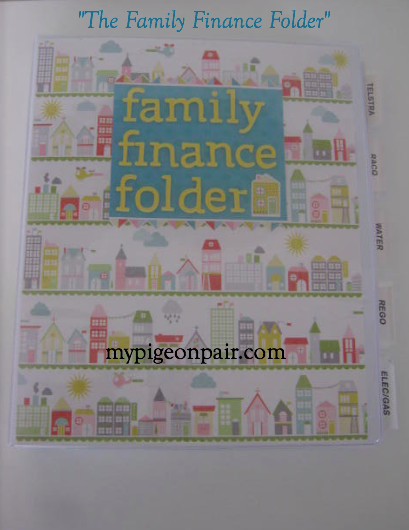 Now to take a closer look inside….
The folder is divided, using the Extra Wide Tabbed Dividers, into the categories of our most common bills.  This will vary for all families but as a guide…
Bank (Mortgage, Statements etc)
Phone/Internet/Mobiles
Water
Rates
Gas
Electricity
Car Registration
Home Insurance
Car Insurance
Health Insurance
Behind each divider are plastic pockets.  For bills that come monthly I have 12 pockets, bills that come quarterly 4 pockets etc.  HAVE ENOUGH PLASTIC POCKETS FOR EACH SECTION. If you go to file something away and you don't have room for it will give you another reason to start making piles of paper!
Also inside the folder I have a large clear envelope for receipts and payslips!  These became too bulky inside a plastic sleeve.
On the other side of the folder cover is our "Family Finance Calendar".  This outlines all of our incoming and outgoing expenses.  I chose to record this information using a calendar format.  
I input all of our direct debit bills, wages and regular bills, electronically on a calendar (I use iCal.)  This program allows me to enter the amount and type of bill, the frequency of payment and even colour code it according to what account it comes out of.  The item then appears on every months calendar.  
This was a big one for us!  We had so many different bills being direct debited and we had lost track of what day of the month and how much they would take out.  Just when we would think we had all the bills covered a new amount would be debited from our accounts!  
On this calendar I also record a brief outline of the months budget (more about that in another post)
But just having a folder does not solve the clutter!  You need a SYSTEM!  Tomorrow I will share our Family Finance System and how we are making it work for us!