I am more than a Mum and I need more than a diaper bag or as we call it a nappy bag.   If only I had of realised this four years ago, before Master O made his arrival, life would have been a whole lot easier. For years I toted around a bulky nappy bag, unattractive and unpractical.  Even worse was when it was time to go to work or enjoy some "me" time with friends, I would have to unload the contents of my bag  and swap them into a handbag.    Then I ditched the nappy bag and just tried using an "ordinary" bag.  With no compartments and hard to clean it didn't survive being dragged to swimming lessons and my items were doomed to the depths of a bag that had no compartments and then
this little beauty arrived….
Isn't she gorgeous.  This "Oi Oi"  must be a "she" as she is as gorgeous, as she is practical, a multitasker, this hard worker helps keep my life organised!  This slim beauty, is decieving as she holds her multitude of treasures within!
This is my everyday paraphenalia.  Yes I know its alot.  I like to have my bases covered.  Nothing worse than being stuck on the side of a road waiting for road side assisatnce without nappies or a water bottle or even worse my iphone.  
From Left to Right.
My Inner B organiser and pen.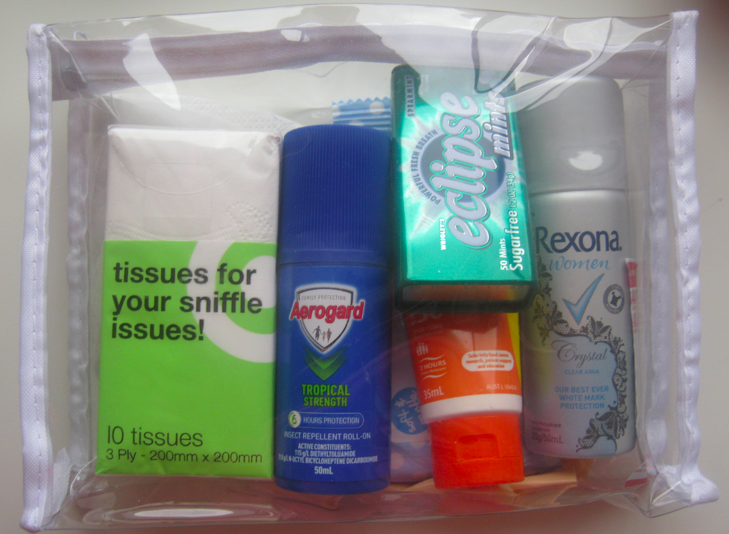 Small clear essentials bag.  Tissues, wipes, disposable bib, insect repellant, sunscreen, breath mints, deoderant, bandaids and a few small plastic bags.
Baby change mat.  This practical red roll up wipeable mat came with the bag!  We have used it for ore than changing nappies and it comes in handy when trying to find a spot to sit at the playground that is not going to leave a wet patch or grass stain on my bottom!
Baby Food pouch.  These are great as they don't require a spoon or bowl and are longlife.
Drink Bottle.
Sunglasses.
Ipod and Iphone.  Ipod for Master O to play if we are waiting somewhere!
Large Clear Case. Nappies, Wipes (in a clear OiOi hard case, that also came with the bag!), Hand Sanitiser, Nappy bags.
Purse.
Reusable bag.  This is great to use for wet or dirty clothes or shoes. 
Lipstick.
Camera. (had to use it to take the pic!)
and my keys of course!!!
and to prove all of that fits in here….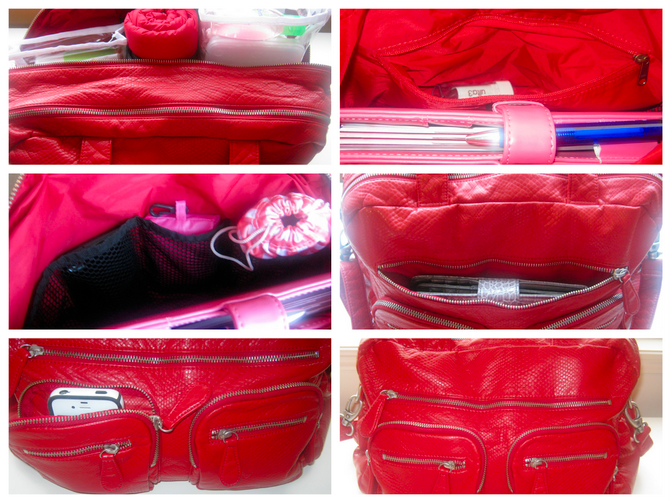 This red faux lizard "Carry All" has compartments for everything!  The numerous front zippered pockets, mean that I do not have to open the whole bag to grab my purse or phone in a hurry.  The bag is easy to clean with red nylon lining and sturdy protective feet on the base.  She fits in the front of the trolley but also comes with a large detachable stroller strap to fit over the trolley or pram handle.  In case that isn't enough the bag came with three free accessories.  An insulated bottle case (I used it for my coffee thermos!), wipeable roll up change mat and wipes case.  You know I am all about style and this bag in its transeasonal red is certainly gorgeous but what sells it for me is it practicality and multi functionality.  It took it to work, to kindy, to swimming lessons, to a meeting, out for coffee (she is great company) and of course to IKEA!
 "OiOi" have the modern Mum covered.    There range has current trends covered as well as the classics. "OiOi" even stock a bag made with the man in your life in mind.  I was complimented on this bag twice in one day.  Once by a young work colleague (who loved its colour!) and secondly by a pregnant mother in the mothers room who loved the way it was so organised!  I truly had the work-motherhood events covered with ONE bag. Oh and did I mention I can also fit an ipad in there!  
To keep my bag organised I;
Restock it every night and think about what I need for the next day.  This way there is no last minute rush in the morning.
Stock up on  "mini" sized bottles and wipes as they are perfect to keep in your bag.  
The clear cases are essential as it helps me to see at a glance what I have in there and what needs replacing.
At the end of every week I give my bag and purse a good empty out throwing out or filing away any receipts.
Is it silly to be so excited about a bag?  I have not been this excited about a bag since stocking up on fake Louis Vuittons in Thailand!  And they didn't help keep me organised! So what's in your bag?  Is it organised? Multifunctional? Or are you dragging around an aged nappy bag with a hole in the bottom?  Maybe it's time to check out the "OiOi" range and start making a home for this little lady at your place.
To see the divine range of "OiOi"  bags and accessories visit oioi.com.au
I was generously given this little lady to review by "OiOi"  All opinions expressed here are my own.