Remember our Anatomy of a Playroom?
One of our first priorites was establishing an "Art Space"  well this space would more be like a painting, gluing, constructing, displaying, drawing, writing space.  
 That is one long shopping list of "wants".  We do not have an endless budget so we had to use as much of what we had, as possible!  We spent another $30.   
Repurposed items + $30 at IKEA = ………
A Children's Craft Space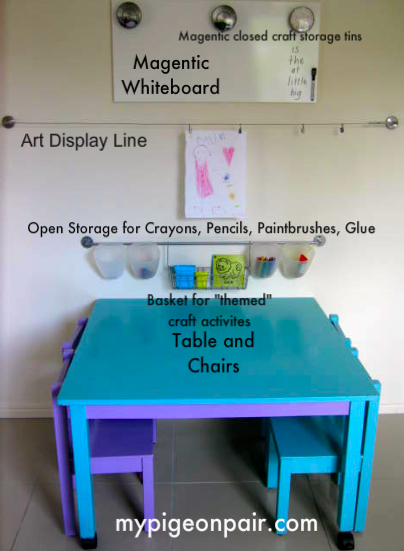 The Details. Top to Bottom
Magnetic Whiteboard. IKEA – SPONTAN – Magnetic Whiteboard – $19.95 
I wanted somewhere I could put up our magnetic letters and numbers.  Also I wnated it to be a whiteboard so I could write Master O's sightwords on it.  I am also hoping to use it as an inspiration board
Craft Jars with Lids.  IKEA – I can't find these on the website but I think it was 3 jars for $6.99.  They are in the Kitchen section.
 These are actually intended to be spice jars!  They now hold sequins, googly eyes and pompoms.  The sorts of things I need to keep away from little fingers and mouths!  They have a mganetic base so attach easily to the board.
Art Display Line.  IKEA – DIGNITET – Curtain wire – $14.99 –
We already had this but it was on a different wall and twice as long.  It got so loaded up with artwork that it started to pull out of the wall.  So we hope by making it shorter we will stop this form happening!  It comes with little hook clips that hold the artwork.  We also had some "Plastic Pockets" that used to hang on it that have mysteriously dissapeared!
Storage rail with buckets. IKEA – BYGEL – rail – $2.99 – containers – $1.99
We already had something like this inplace but with less buckets no basket and much shorter.  It was hard to reach both sides whilst sitting at the table.  Now a child can sit on each side and still access a bucket!  The buckets left to right contain.  Paintbrushes, crayons, pencils, school supplies (lead pencils, eraser, sharpener, glue stick, name card).
Themed Basket.  IKEA – BYGEL – Wire Basket – $2.99
This is a new idea I have had!  We are all sick of doing the same "drawing" activities.  Master O has had a new wave of enthusiasm about "drawing" and I desperately wanted to harness it and explore it!  So…. each week I intend to put some new materials in this basket!  This week it has been "crayon rubbing" so leaves, coins, dominoes, rubbing plates anything that would make a good "impression" on the paper.  I find if its out and easily accessible we will use it!  
Table and Chairs.  I had these made for me before Master O was even born and I used to have it in my classroom.  I love that it can comfortably fit 5-6 children at it even when it is up against the wall!  I also love that it is on wheels which means we can take our activities outside!  
We chose this particular space in our playroom as it gets heaps of natural light AND is close to our TROFAST unit which now houses more craft supplies (more about that in another post)  
So what do you think?  Do you have any ideas as to what I can add?